Float Milwaukee is here to provide you with the best floatation experience the Midwest can offer.
What should you know about Float Milwaukee? Float's individual floatation tanks and pools are designed to create a calm, relaxing environment that promotes total rejuvenation of the mind and body. Our friendly, knowledgeable, and professional staff will help to facilitate this process through inspiration, education, and problem solving.
Our Founding Story
Meet Andy Larson, Float Milwaukee Founder
Milwaukee native Andy Larson opened Float Milwaukee in the hip Walker's Point area in 2015.
Prior to being the proprietor of Float, Andy had a career as a CPA. Overworked, exhausted, and looking for relief, he stumbled across a floatation center while searching online. There, he booked his first session. That hour in the super-salinated, silent, pitch-black tank transformed his life.
This experience led Andy to floating in facilities all across the country. He started to understand that float therapy was something everyone could benefit from, not just those in high-pressure corporate jobs.
So Andy took a leap of faith and traveled to Portland, Oregon to study with a float center. There, he learned even more about the wide range of benefits floating can offer, as well as the conditions it helps alleviate. Upon returning to Milwaukee, his mission was clear: to make float therapy accessible to the widest range of people as a means of promoting calm, relief, and rest.
To further support the community in the cause of wellness, Andy opened Bowls To Go (serving fresh, healthy food with globally-inspired flavors) next door to Float. 
He also serves on the Board of Directors at both CORE El Centro (a nonprofit advancing the cause of affordable therapies), and Float Conference (an international organization of float centers that promotes research and education).
Andy would like to welcome all of Milwaukee in for a float, a tour, or even just an introductory visit. "Everyone floats for different reasons, so I have yet to meet someone who can't benefit in some way – even if they don't totally understand it yet," he says. "I want it to be comfortable for everyone."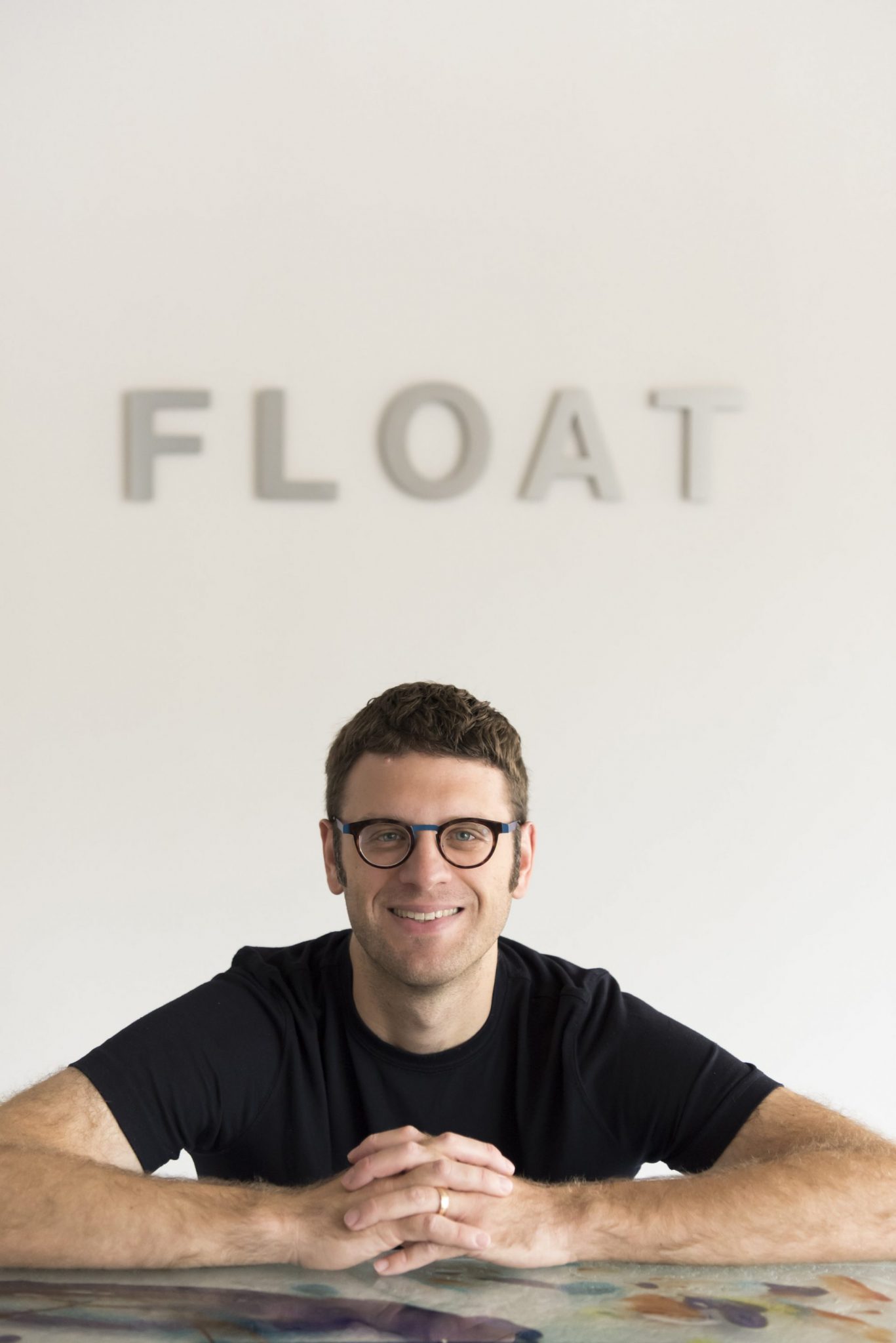 About Our Facility
People come to Float Milwaukee to have the best floatation experience. Unlike many float centers, we don't offer massage, bodywork, or other spa services. We've chosen to focus on doing one thing, and doing it well – perfecting the float experience. Our facility contains 3 pod rooms and 2 open pool rooms. Each room comes equipped with a shower with soaps and towels provided.
We have multiple bathrooms for our clients, a well equipped post-float dressing room to prepare yourself for the world after your float, and a comfortable post-floatation lounge with complimentary organic teas where you can read and reflect before reentering the world.
Parking at Float Milwaukee
We have five reserved parking spots in the gravel lot across the street from our entrance. These are marked with Float Milwaukee reserved signs. Additionally, street parking is available all around the building. It is unlimited and free all the way down Freshwater Way, and free but limited to two or three hours on 2nd Street and Pittsburgh.
ADA Accessibility
We are wheelchair accessible into the float rooms. Additionally, room 3 has an ADA handheld shower. We also have a portable ADA shower bench available if needed or desired. The pods themselves have a wide lip to provide the ability to sit and swing over into the pod. If you are unsure whether or not you may need assistance, please bring someone with you who can help get you into and/or out of the pod. They are welcome to stay in the room or relax in the lobby while waiting for the float to finish.
About Our Technology
If you're someone who geeks out about the technology behind floating, great research went into selecting our float pods and pools to ensure they provide you an exceptional experience.
The float pods are manufactured by Superior Float Tanks. We have three rooms that contain Evolution Float Pods. We also have two rooms that contain float pools manufactured by Floataway. These pools are recommended by Dr. Justin S. Feinstein, the leading voice in clinical research for floatation therapy.
Enjoy a Clean Experience
How does Float Milwaukee ensure you're provided a pristine experience? The high salinity of the water leaves little room for things to grow in the tank that shouldn't be there.
Additionally, before every float, the entire volume of the water/salt solution is circulated and filtered a minimum of three times using an advanced UV process. The water is cleaned using peroxide. Within each private room, there are showers with natural soaps that each floater uses before and after each float.
Your Privacy and Safety Matter
Being able to fully let go is how people see such great benefits with floating. We want to ensure you have no concerns. When you book a float, you have a private, locking room. You bring all your belongings with you, and the rooms are effectively lightproof and soundproof. The float pods do not lock. With one hand you can open the pod with ease and exit at any time.
Take the Virtual Tour of Our Facility
Use the interactive map below to take a walkthrough of our facility.
Book Your Next Float Now
You've come this far. Come be our guest. Calm awaits.
As seen in these publications