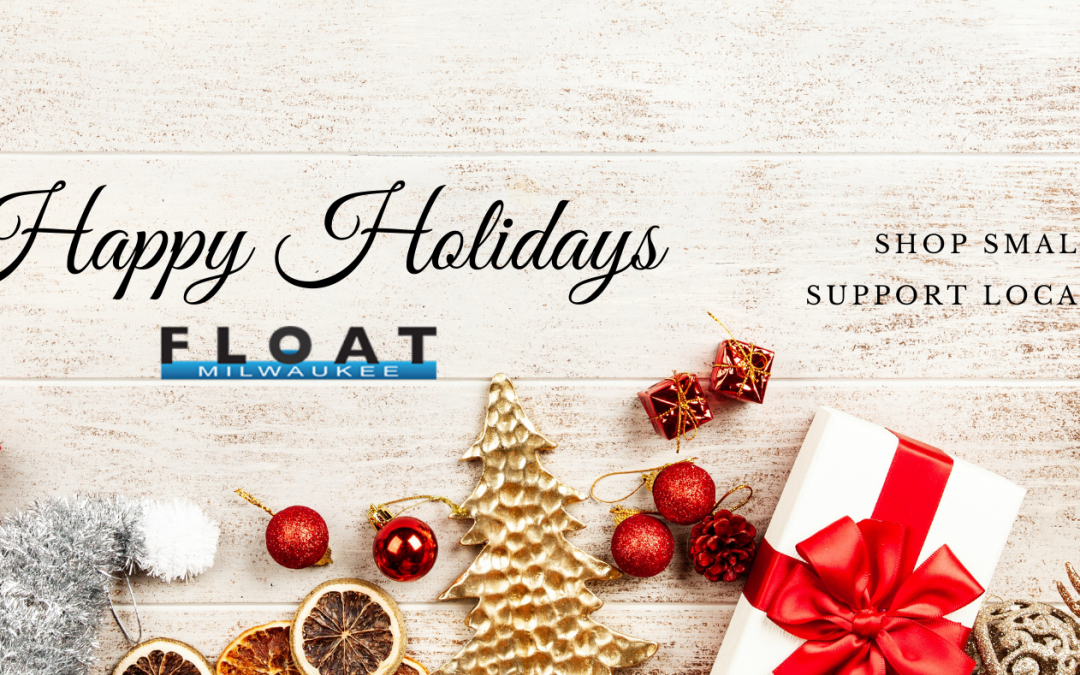 Welcome to Float's Local Holiday Shopping Guide
If you're here, it means one thing:

You're ready to save the holiday season! 
No seriously. We've spent the last month checking out what the small business community has on offer for the holidays, so we can help you support the businesses that make a difference AND feature great holiday deals.
Let's begin:
Located on the first level of the Pritzlaff building on the outskirts of the Third Ward and Walker's Point, Aperitivo is a trendy, cozy, Italian-inspired restaurant with great prices and mouth-watering food. It's the perfect place to stop by after work, or snag carry-out meals from. From now until December 31st, when you purchase a gift card for $100 or more you'll receive 15% off. And, there's no limit! This deal is available in person, or by calling (414) 276-4400.
A collective of five concept bars across the city (Splash Studio, Axe MKE, Nine Below, North South Club, and Head Space Trivia) Bars & Rec. blends immersive experiences with the magic of craft cocktails, local brews, and flavorful wines. They've modified their spaces to be safe and sanitary for small groups to enjoy, but for those who prefer playing it safe at home, take and make kits are available from Splash Studio. 
Black Sheep celebrates local, inventive, and experimental flavors with a menu that pairs well with their unusual beverage fare. They work hard to source the most unique wine and beers they can for more seasoned palates. Give a digital gift card to the wine, beer, or cocktail connoisseurs in your life, because we know they'll discover a new favorite. 
While it can be fun to bake desserts that work for your dietary needs, finding bakeries that respect them can be tricky. Blooming Lotus' goods are crafted without dairy, grains, and with your needs in mind. These vegan treats are baked without losing the complex flavors you expect from the best bakeries around. Stop by and pick up some scones, muffins, or special order a cake for your celebration. 
Bounce has doubled down on being a voice for the small business community, by consistently shouting out other businesses in need that actively invest in Milwaukee. They've committed every sale they make during this time to the wellbeing of their employees — helping them remain paid, or fulfilling severance packages. Picking up a gift card for when they reopen ensures one more person can rest easy during the holidays… and gives you an unmatched experience when they reopen! 
Bowls To Go, located next to Float, is a prepared meal service featuring healthy AND delicious food that fit your lifestyle. They offer weekly subscriptions and a la carte bowls—perfect for those post holiday indulgence. Sign up for a subscription or pre-order individual bowls Monday through 3 p.m. Friday every week for pick up, or have your order delivered, the following Tuesday. Bowls To Go focuses on both fresh (refrigerated) and frozen bowls, so that customers can enjoy a nourishing meal on their timeline.
Float Milwaukee

We've got our own holiday gift card sale going on until the end of December 31st, for all your winter floating needs. And you know what? There's nothing quite like slipping into a 95 degree salt water bath and floating into eternity. Float gift cards can be purchased online and delivered whenever you want. One 60-minute float for just $55 or a two-float gift card for $95! Why not stock up when you can save up to 40% on your floats? 
Single origin chocolate, environmental sustainability, and no artificial preservatives make Indulgence's confections a guilt-free choice. Their commitment to the technical craft of creating chocolate has tempered them into a local favorite. This holiday season, give the delectable experience of a the perfect season treat!
They may be closed to promote the safety of the community right now, which means now is the best time to support such an important Milwaukee institution! A gift membership to the MAM comes with some incredible benefits that should not be passed up. Plus, for a limited time these memberships come with an extra three months, and a gift voucher.
The Milwaukee Film Festival is a celebration of visual storytelling, along with the organization's commitment to the community. In the spirit of preserving the culture, study of, and communal investment in the art of filmmaking, consider gifting a film-buff or art-lover a membership with Milwaukee Film. With eight different membership options, you can gift the perfect stocking stuffer, or show-stopping gift. 
Milworks thrives as a rugged and refined men's goods shop. They offer a curated selection of items for the holiday season with gifts under $50. When you shop with them, you're not getting the usual department store fare, instead they source their catalog from sustainable brands that uphold quality over quantity, and care about their impact on the world.
MODA3 opened their doors in 2004, and have successfully kept up with the style curve of managing shoes, clothing, and accessories. MODA3's is always running fantastic discounts on their sale page, but if you're looking for a winning stocking stuffer we've heard rave reviews of their STANCE socks.
A modern take on an old-style general store, ModGen has been hard at work providing a shopping experience unlike any other for 20 years! They search far and wide for unique items to bring back to their shop for the ultimate "shop local" experience. Whether you're searching for children's books by local authors, deals on holiday items, or artisan hats, there's a gift for everyone in your life. 
All about organic, plant-based, and high-quality natural products, Nourish has YOU in mind as they source new items for their catalog — plus they take time to give back to the community whenever they can. Their holiday shopping options vary from stocking stuffers to gift sets and gift cards. 
Their dedication to fresh, sustainable food is what drew in their 23,000 co-op owners, and paved the way for their four Greater Milwaukee area locations. This holiday season they're offering gift card deals worth checking out. When you buy a gift card, you get a small gift card kickback for yourself. You can also contribute to their holiday food drive, and pick up some free holiday baking recipes.
Purple Door is a Milwaukee favorite treat (and if you don't know who they are… you need to get over there ASAP). For the holidays, they offer several different chilly gift options. You can pick up access to their Pint Club, Bucket of Sandwiches, Holiday Pie Pints Pack, and more! Head over to their Holiday Gift Guide page to check out their other icy treats. 
This organic, direct trade tea company holds fast to their commitment to sustainability and supporting those who spend their lives growing tea. And they certainly won't leave you out to dry, because they also offer high quality teaware for casual tea drinkers and gongfu cha enthusiasts (a traditional tea ceremony). Rishi has a little something for every kind of tea lover! 
Featuring an unprecedented selection of wine, whiskey, and perfect palate pairings, SCOUT is your local one-stop-shop for everything alcohol. During the holiday season, you can pick from several different gift baskets including one that features six wines across the flavor and color spectrum for under $100. Note: WI alcohol laws prohibit delivery, so all purchases must be picked up on site.
Featuring the work of independent artists and designers, and offering a place to take or lead workshops, is the beating heart of Sparrow Collective. They offer items, clothing, jewelry, and other artisan works from more than 100 different small businesses across the country. If you're looking for an exclusive collection of items you won't find anywhere else, check out their holiday catalog for one-of-a-kind gifts. 
With diverse menu offerings and a unique dining space in Walker's Point, this restaurant is a must try this holiday season. In terms of holiday offerings, you can pick up a few Toast gift cards, or if you need a sanitary and safe place for you to host an appropriately sized holiday party, you can schedule a private event with them. 
It's a wonderfully modern lifestyle boutique featuring a large selection of curated specialty home goods, apothecary items, jewelry, plants, stylish clothing options, and more! If you're searching for the best way to add a pop of color to your living space, URSA's customers rave about their selection of unusual house plants.
Found on the second floor of the Pritzlaff building, Ward4 is a coworking space featuring exposed brick walls, original wood floors, and designed for total working comfort. The space is thoroughly cleaned every day, making it a safe and spacious option to get out of the house for a workday or meeting. For a limited time you can save 10% off a one month membership, when you mention Float Milwaukee, by emailing kristen@ward4mke.com. 
The Waxwing is dedicated to sharing the best local artists and artisans have to offer. This year they have a robust offering of Christmas options for customers to dive into, including ornament sets, gift sets, stockings, and more. In case you're not looking for holiday themed items, they also offer customized gift sets featuring candles, cocoa mixes, Milwaukee merchandise, and pampering products. 
Need More Ideas?
Our community needs you more than ever to speak with your wallets, by supporting local businesses. If you need more ideas of who to support, OnMilwaukee has a nice write up of  more than 100 local gifts. Thank you for choosing to shop local and supporting the small businesses that invest in the city we love.